Ad: I am very pleased to introduce open source document management software, which helps you to manage unlimited documents of your company.., please visit OPENKM to learn more.
You do not need to set up two layers of protection because this can be more harmful than beneficial. Here are 11 free firewall software worth using
Note: The list of free firewall tools below is organized from best to worst, based on several criteria such as features, ease of use, software update history and many other features.
A free firewall is not a good replacement for antivirus software. Therefore you should still install anti-virus software on your computer. Refer to the article 10 most effective antivirus software for Windows.
1. Comodo Firewall Software
Comodo Firewall provides virtual Internet browser, ad blocking tool, custom DNS server, Game Mode and Virtual Kiosk modes in addition to easily blocking any process or program from accessing / leaving the network.
This software is appreciated for easily adding programs to the list to block or allow. Instead of having to read a long wizard to identify ports and other options, you can browse programs and execute. However, it also has specific advanced settings if you want to use it.
Comodo Firewall has a Rating Scan option to scan all processes and show their reliability. This option is especially useful if you suspect malware is running on your computer.
Comodo KillSwitch is an advanced part of Comodo Firewall, which lists all running processes and makes it easy to terminate or block anything you do not want. You can view all applications and services running on the computer from this window. Comodo Firewall has a heavy download file of over 200MB, so the installation process will take more time when the file is downloaded, especially on a slow connection network.
Comodo Free Firewall works on Windows 10, 8 and 7.
Note: Comodo Firewall will change your default homepage and search engine unless you uncheck that option on the first screen of the installer during initial setup.
Download: Comodo Firewall
2. AVS Firewall software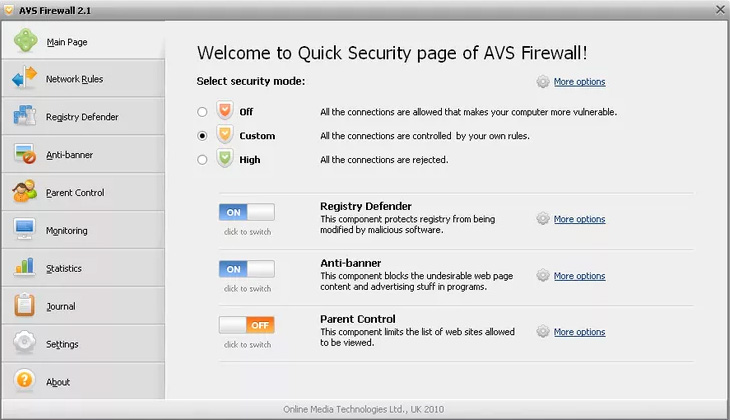 AVS Firewall has a very user-friendly interface and is easy to use for everyone. It protects your computer from malicious registry entries, pop-ups, flash banner and most other ads. You can even customize the URL to block ads, banners if not in the list.
In addition, users can easily allow or deny specific IP addresses, ports, programs, etc.You can add them manually or select words from the list of running processes. The AVS Firewall has a Parent Control section, which is used to allow access to a specific list of websites. You can password protect this part of AVS Firewall to prevent unauthorized changes. Alternatively, you can view the network connection history in the Journal section to check previous connections.
AVS Firewall works on Windows 8, 7, Vista and XP.
Note: During installation, AVS Firewall will install their registry cleaning software if you do not deselect it.
Update: AVS Firewall is no longer part of the AVS program suite it is constantly updating, but it is still a great free firewall, especially when you are still using an older version of the operating system. Windows.
Download: AVS Firewall
3. TinyWall Software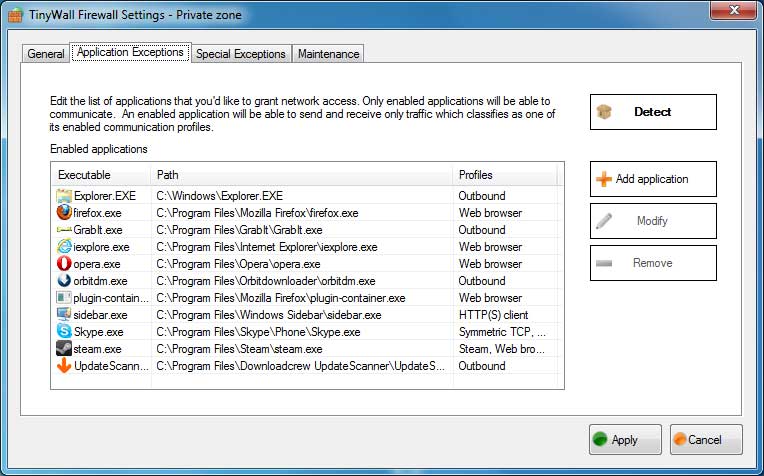 TinyWall is a free firewall program that helps you block tons of notifications like most other firewall software. TinyWall comes with an application scanner that scans computer programs that can be added to a safe list. You can also add processes, files, or services manually and grant it permanent or permanent firewall access.
You can run TinyWall in Autolearn mode to "teach" which program you want to grant access to the network to be able to open all and then turn off the mode to quickly add all the programs you trust to the list. safe. Connections will display all active Internet-connected processes as well as open ports. You can right-click on one of these connections to abruptly terminate the process or even send it to VirusTotal.
TinyWall also blocks locations that contain viruses and worms, protects changes made in Windows Firewall, can password-protect and hosts file lock so that unwanted changes cannot be made.
Note: TinyWall only works with Windows Vista and newer, including Windows 10, 8 and 7. Windows XP is not supported.
Download: TinyWall
4. NetDefender Software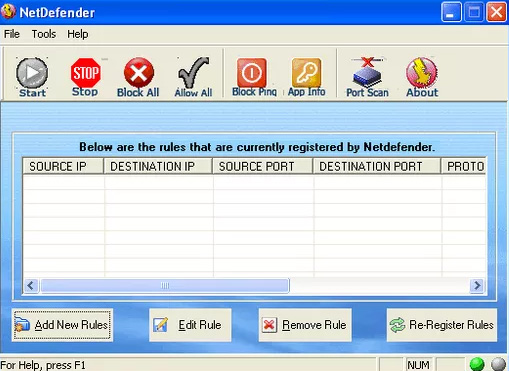 NetDefender is a fairly basic firewall program for Windows. You can specify the source and destination IP address as well as the port number and protocol to block or allow any address. This means you can block FTP or any other port that is being used on the network.
The application is slightly restricted because the program is running to add it to the block list. This works simply by listing all programs and having the option to add to the list of blocked programs. NetDefender also has a port scanning tool so you can quickly see which ports are open on your computer, to easily identify and delete them.
NetDefender works officially only in Windows XP and Windows 2000, but it does not cause any problems in Windows 7 or Windows 8.
Download: NetDefender
5. ZoneAlarm Free Firewall Software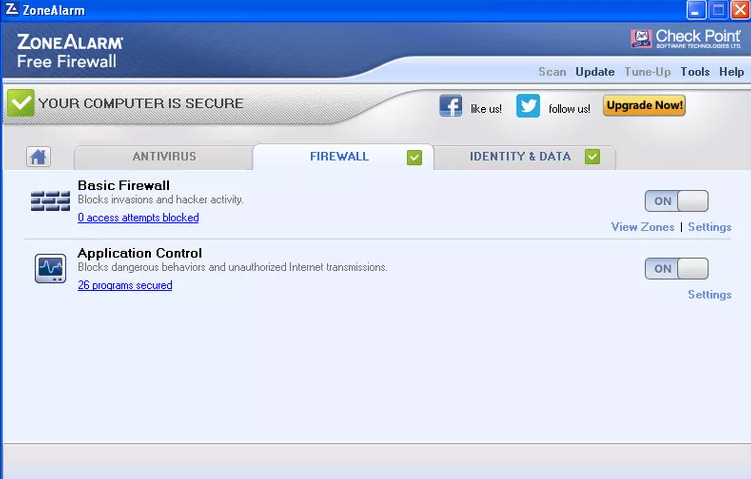 ZoneAlarm Free Firewall is the basic version of ZoneAlarm Free Antivirus + Firewall but has no antivirus. However, you can add this to the following installation if you want a virus scanner with this firewall.
During the installation process, you have the option of installing ZoneAlarm Free Firewall with one of two security types: AUTO-LEARN or MAX SECURITY. The first type of security makes changes based on your behavior and the following type of security provides the ability to control each application manually installed.
ZoneAlarm Free Firewall can lock the host file to prevent malicious changes, access Game Mode to manage automatic notifications, password protection to prevent unauthorized changes and even send email notifications. security status report.
Read more: 9 best antivirus software for Mac
You can also use ZoneAlarm Free Firewall to easily adjust the security of Public and Private networks with slider settings. You can set the settings from firewall protection to medium or high to adjust who on the network can connect to you, which limits file and printer sharing for some networks. specified.
Note: Choose custom settings during setup and click Skip all offers to avoid installing anything other than ZoneAlarm Free Firewall.
ZoneAlarm Free Firewall works with Windows 10, 8, 7, Vista and XP.
Download: ZoneAlarm Free Firewall
6. PeerBlock Software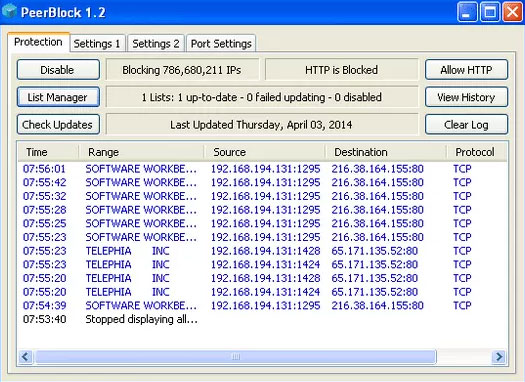 PeerBlock is different from most firewall programs on this list because instead of blocking programs, it will block the entire list of IP addresses by certain categories.
It works by downloading the list of IP addresses that PeerBlock will use to block your access to incoming and outgoing connections. This means that any of the addresses listed will not be able to access your computer the same way you cannot access their network.
For example, you can upload a list of pre-created locations to PeerBlock to block an IP address that has been labeled as P2P, business Internet service providers, education, advertising or spyware. You can even block entire addresses in one country and organization.
You can create your own address list to block or use some free addresses from I-BlockList. The list you add to PeerBlock can be updated regularly and automatically without any intervention.
PeerBlock works in Windows 10, 8, 7, Vista and XP.
Download: PeerBlock
7. Privatefirewall Software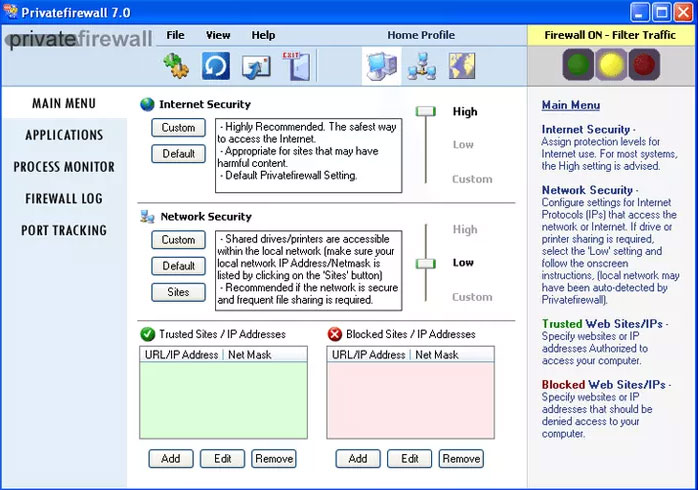 There are three profiles in Privatefirewall, which allow easy switching between single settings and firewall rules. The list of allowed or blocked applications is easy to identify and change. You can add new applications to the list and see which applications are blocked and which are allowed.
When editing access rules for a process, there are really advanced settings such as defining permission, requesting, or blocking the process's ability to open threads, copy screen content, and monitor content. clipboard, start off / logout, debugging process and more.
When you right-click on the Privatefirewall icon in the notification area of ​​the taskbar, you can quickly block or filter traffic without any additional prompts or buttons. This is a simple way to quickly stop all network activity at once.
You can also use Privatefirewall to restrict outgoing email, block specific IP addresses, deny access to the network, and disable access to custom websites.
Download: Privatefirewall
8. Outpost Firewall Software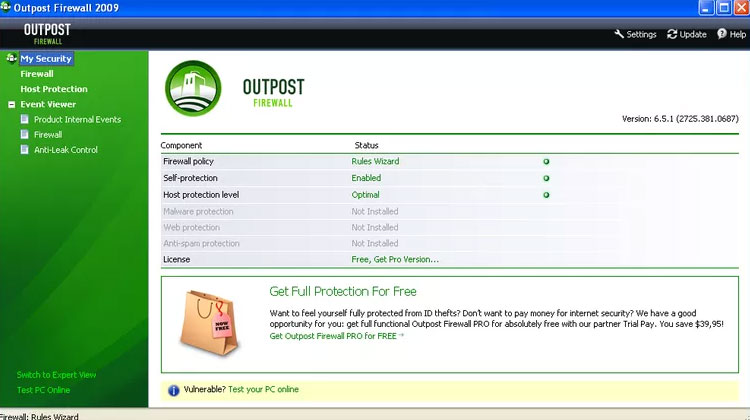 Although Outpost FireWall is difficult to use and no longer being developed, it does have some useful advanced settings. When you first start it will automatically create rules for popular applications, which is handy because you don't have to manually manipulate rules if many popular programs have been installed.
Like other firewall programs, Outpost Firewall allows you to add custom programs to your block / allow list and specify specific IP addresses and ports to allow or deny.
The Anti-Leak Control feature prevents malware from providing data through other trusted applications, not included in firewall programs but certainly useful. However, the program is no longer being developed, meaning it is no longer updated, supported or added new features.
Download: Outpost Firewall
9. R-Firewall Software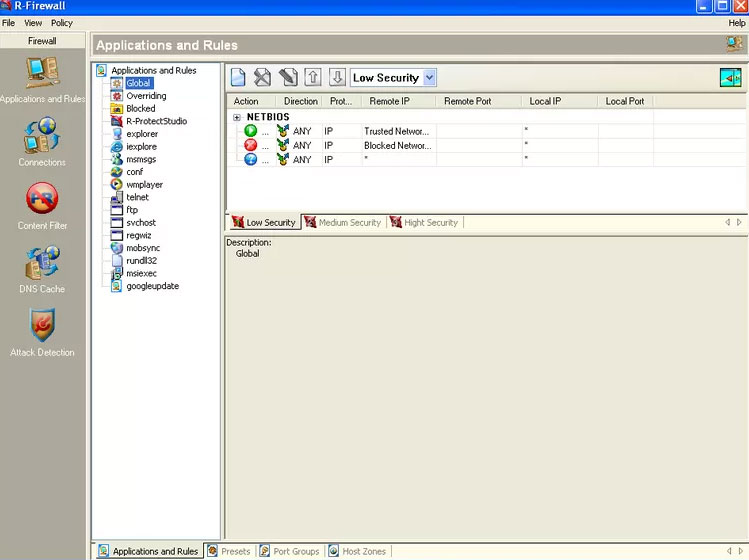 R-Firewall has all the features that a firewall software possesses, but the interface is not easy to use. Also there aren't any instructions that help explain what settings to make when applicable.
There is a content blocker that prevents you from browsing by keyword, mail filter to block cookies, Javascript, pop-ups, ActiveX, image blockers that will remove fixed size ads and general ad blockers block ads by URL. A wizard will run to apply rules to several programs at once by detecting the currently installed software.
Download: R-Firewall
10. Ashampoo FireWall Software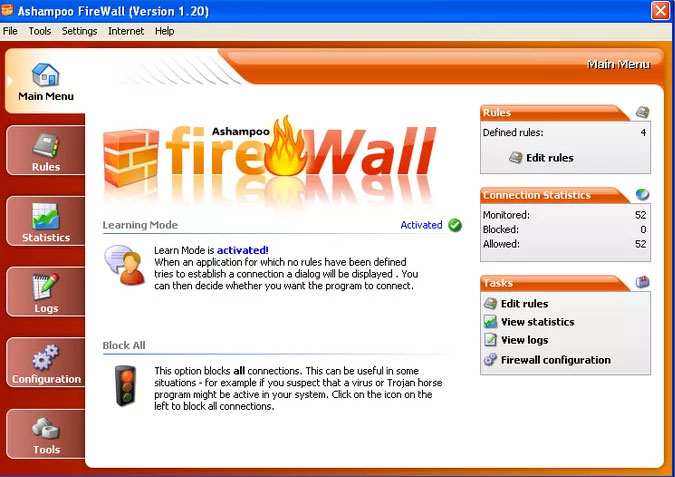 When Ashampoo FireWall is launched for the first time, you are given the option to view the wizard in Easy Mode or Expert Mode to set up a program that is allowed or blocked from using the network.
The Learning Mode feature is a great feature because it sets everything up to be blocked. This means that when programs start to request Internet access, you must manually give it permission and then set Ashampoo FireWall to remember your choice. This option is useful because you can know exactly which programs have Internet access and which programs are blocked.
One feature users like about Ashampoo FireWall is Block All, because clicking this option will immediately block all incoming and outgoing connections. This feature is perfect when you suspect a virus on your computer and are communicating with the server or transferring files over the network. You must request a free license code to use this program.
Note: Ashampoo FireWall only works with Windows XP and Windows 2000. This is another reason that this free firewall is at the bottom of the list.
Download: Ashampoo FireWall
11. GlassWire Software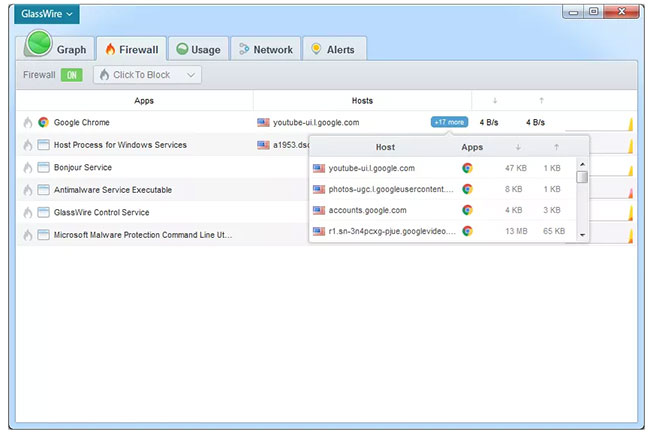 The GlassWire firewall program has an extremely simple user interface, organizing all the functions very logically.
The first tab at the top of the program is called Graph, which allows you to see the real-time interface of network applications and the type of traffic they are using, for a month. This is also where you go to see when any particular program is first connected to the network.
On the Firewall tab is a list of active programs and you can see exactly which server each program has a connection established on. If you want to block that program, just click the icon on the left and immediately it will no longer have access to the web.
Usage details the amount of data that each application has used today, this week or the whole month, both incoming and outgoing traffic. You can view all applications or select specific applications from the list to see the usage sorted by server and traffic type, such as HTTPS, mDNS or DHCP.
The Network tab is not supported in this version of GlassWire, but if you buy the program, you can see devices detected on the network and receive notifications when new devices join.
The Alerts section is a hub for all the alerts that GlassWire aggregates, such as when the program was first determined to use which networks and servers were connected.
In the GlassWire menu is an option to remain anonymous, which will prevent the program from logging all traffic until you turn it back on. There is also the Snooze option to turn off all notifications for 24 hours. In the settings are additional features like launching GlassWire on startup and turning on or off specific alerts, like bandwidth overload, changes to proxy and / or DNS server settings and spoofing detection. impersonate ARP.
Download: GlassWire