On Windows 10, Microsoft no longer integrates the option to turn off updates completely, but the update process will take place automatically. Now to turn off Windows 10 update, prevent Windows 10 from automatically updating or turn off the automatic update feature on Windows 10, you will have to do it manually.
For most users, Windows Update will slow down the system, can cause incompatibility errors, when you need to shutdown, you have to wait for Windows to update for a long time and it's frustrating… Below of TipsMake.com will guide you. Guide you how to turn off the automatic update feature on Windows 10! Because Windows 10 is constantly updating, if method 1 doesn't work, try method 2, 3…
1. Turn off updates on Windows 10 with services.msc
I always use this way to turn off Windows 10 updates, tested on Education and Pro versions are OK, but it has the disadvantages I mentioned below, you should do it in combination with method 2 for the best effect.
To turn off updates on Windows 10, follow these instructions:
Step 1: Press  Windows to open run > type  services.msc > press Enter or press Windows E and paste the following path in the path bar:
Control PanelAll Control Panel ItemsAdministrative Toolsservices
Step 2:  Go to the  Windows Update  section (scroll down near the bottom), double-click it to open the  Properties window.
Step 3: At the General tab, click Stop under Service status, then find Startup type > click the arrow in the box and select Disabled.
Step 4: Press OK to save changes, restart the machine and check the Windows Update feature again.
Note:  If you do it this way, Windows Defender cannot be updated anymore, it will be quite dangerous if your computer does not install anyanti-virus software for Windows . If you just want to delay updating Windows 10 in the Startup Type section, you can choose Manual  to update it manually (it says an update is available but you have to click install it yourself) or select Automatic (Delayed Start) to wait until If there is a complete update, then choose it. Then Windows 10 will allow you to postpone updates for 3 days, every 3 days you choose to postpone.
On Windows 10 Pro and Education, some of you reported that method 1 cannot, it still updates itself, I have tried combining method 1 with method 2 below, it's ok. If you have the same situation, you should do both method 2.
2. Turn off Windows 10 updates with Group Policy Editor
To turn off the automatic update feature on Windows 10, follow the steps below:
Open the Group Policy Editor, press the  Windows R key to open the Run command window, then type  gpedit.mscin it and press  Enter. If you are using Windows 10 Home, you may not find Group Policy Editor, you can follow method 1 or activate Group Policy Editor for Win 10 Home.
On the Group Policy Editor window, navigate to the key:
Computer Configuration > Administrative Templates > Windows Components > 
Windows Update
Find  Configure Automatic Update, double click on it and select  Disabled, then save the changes and you're done.
How to turn off Windows updates using Group Pololicy Editor
You can follow how to turn off Windows 10 update in the animation below:
3. Use EaseUS Tools M to block Windows 10 updates
If you want to block Windows 10 updates with one click, you can try the free tool EaseUS Tools M. This tool allows you to enable/disable Windows Update, fix hard drive errors, erase/activate write-protection… in seconds.
The steps are as follows:
Download EaseUS Tools Toolsand install it on your computer. This tool has been checked by Quantrimang on Virus Total and does not detect viruses.
Link to download EaseUS Tools US.
To install EaseUS Tools you just need to double click on the file toolsm.exe just downloaded then click Next and wait to press Finish it's done
Next, run EaseUS Tools  and go to Windows Update.
The tool will automatically detect the status of the Windows Update service. If Windows Update is enabled, click Disableto block updates
To check if  EaseUS Tools  is really working or not you can press the  Windows  button then type  Services. Right click on Services and select Run as administrator
In the list of services, find and right-click  Windows Update then select Properties. You will see this service is being stopped
You can also use EaseUS Tools M to clean your computer. This tool supports deleting junk files, temporary files to free up space as well as speed up the computer. In addition, it can also help you find and delete large files. Other features of EaseUS Tools M include hard drive error correction, erase/enable write-protection.
4. Block Windows 10 from updating for 365 days
In the Registry on Windows 10 1803, 1809, 1903, 1909 and 2004, there is an option that allows you to select the specific version of Windows you want to use. That is, you can modify the Registry and have your device use a specific version of Windows 10, as long as that version is still supported by Microsoft.
Additionally, the 'TargetReleaseVersionInfo' entry in the Registry also allows users to disable downloading of feature updates for up to 365 days. If you want to use a specific version of Windows 10, you can follow these steps to change the Registry:
Press  Windows R, type  regedit.
Navigate to
HKEY_LOCAL_MACHINESOFTWAREPoliciesMicrosoftWindowsWindowsUpdate
Right click on "Windows Update".
Select "New".
Select "DWORD (32-bit) Value" and name it  TargetReleaseVersion.
Set the value of "TargetReleaseVersion" to  1.
Right click on the "Windows Update" folder again.
Select "New" and click "String Value".
Name it "TargetReleaseVersionInfo" and enter the Windows 10 version number as the value.
You can also enable this feature using PowerShell. To delay the update using PowerShell, run the command with the following syntax:
reg add HKLMSOFTWAREPoliciesMicrosoftWindowsWindowsUpdate /f /v 
TargetReleaseVersionInfo /t REG_SZ /d XXXX
Ở cú pháp lệnh trên, bạn cần thay thế "XXXX" bằng phiên bản Windows 10 mà bạn muốn tiếp tục sử dụng.

This feature will be very useful when a new update is forced to install on your device, or you have to delay the update to upgrade your device. For example, if you are on version 1903 and do not want to upgrade to version 2004, you can enter the value "1903", to stay on version 1903, or enter "1909", to be updated to version 1909.
5. Block Windows 10 updates in regedit
You enter  regedit  in the search box, press  Enter  to open the registry window. Copy and paste the following link into the address bar just below the File|Edit|View|Favorites|Help menu:
HKEY_LOCAL_MACHINESoftwarePoliciesMicrosoftWindowsWindowsUpdateAU
Double-click  NoAutoUpdate, in  Value data, enter 1 and then press  OK  as shown: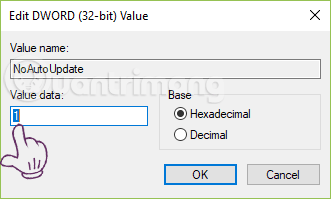 After completion the value of NoAutoUpdate will now be 0x00000001(1). If you want to let Windows 10 update automatically again, change the Value data value in the step above to 0.
6. Pause Windows Update on Windows 10 via Settings
This way to turn off Windows 10 updates is only temporary, allowing you to postpone the update to a more suitable time rather than turning off updates completely. The maximum delay time is about 30 days each time.
You enter  Windows Update settings in the search bar.
The Windows Update interface opens, find  Advanced options:
Find Pause updates > Pause until > you select the date you want to update Windows 10.
Then return to the Windows Update interface, you will see a message that the update has been postponed to the date you selected as successful:
7. Turn off Windows 10 peer-to-peer updates
Another fairly new feature in Windows 10 is the system that allows updates through peer-to-peer (p2p) computers. It is roughly understood like this: when updating, 1 computer will be considered as the "server", and other peers will update via that "server". This will help users save bandwidth, and updates will also be faster than downloading directly from the Internet. And to turn off this type of update, click on the link Choose how updates are delivered:
Switch  On  to  Off.
8. Postponing Updates on Windows 10
This way takes advantage of the Metered Connection feature, which only applies when you are on a wifi network. Simply put, turning the Wifi network into a data-restricted network, causing Windows 10 to delay updates until you switch to an unlimited network.
To enable the option Set as metered connection connectionfollow these steps:
1. On a Windows 10 computer, open the Start Menu.
2. Go to  Settings.
3. When the  Settings  window opens, click  Network & Internet.
4. Click  Wi-Fi in the left pane.
5. Now, click on  Manage known networks.
6. Click the wireless connection name > click the  Properties button.
7. Now, scroll down to find the heading Metered Connections.
8. Then turn on the  Set as metered connection button.
This way, you can pause Windows 10 updates for a while in case you've run out of monthly usage.
9. Block specific Windows 10 updates
There is a "show or hide updates" tool on the Windows website that allows users to disable or hide specific Windows 10 updates. You just need to download this tool and install it. Follow the instructions and disable problematic updates.