TP-Link Archer C80 is an affordable long-range router ideal for mid-sized homes. With a 3×3 MU-MIMO, parental control and remote control using TP-Link's Tether app, the Archer C80 has a few admirable features for a mid-range router, but it also lacks some. something users would expect from a router in this price range (like smart assistant compatibility and no USB ports). Let's make a more detailed review of TP-Link Archer C80 in the following article.
Design: Basic, but effective
The Archer C80 is an exceptionally small router, with a body measuring just 11.7 x 21.6 x 3.2cm. Smaller than this book, the Archer C80 router can fit neatly on your desk. This router also has two keyholes on the back for wall mounting.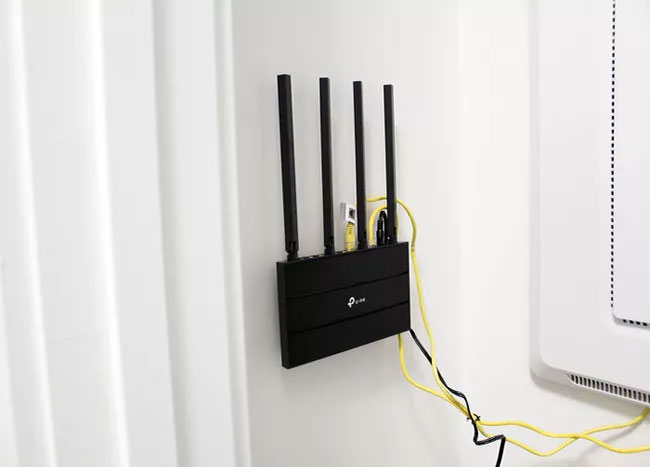 The matte black color scheme allows the router to blend in with other devices easily. The surface is textured and has holes to cover the vents. However, the C80 is also easy to catch dust, fingerprints and smudges.
Overall, the C80 feels pretty solid. There are 4 antennas and they are quite sturdy, not feeling fragile or fragile. The antenna is exceptionally long – disproportionate to the body of the router – but the length of the antenna is conducive to performance. You can move the antenna up and down 90 degrees and about 180 degrees from side to side, this allows you to adjust the antenna appropriately for wall or table placement.
Gigabit Ethernet ports (1 WAN, 4 LAN) and power adapter port are located on the back of the device, ideal for laying on a flat surface, but not great for wall mounting as the cables go above the router and are difficult to hide or sort.
With the Archer C80, you'll have to give up a few features in exchange for speed. This is a dual band AC1900 router, which means it can reach up to 1300Mbps on the 5GHz band and up to 600Mbps on the 2.4GHz band, the total throughput is 1900 Mbps, so theoretically it's not as fast as the WiFi router. 6. However, this is still one of the fastest routers in this price range.
The C80 doesn't have a USB port, which is quite disappointing. USB ports are becoming more common in WiFi routers, and people also love having a USB port to easily share hard drives and printers on the network. The C80 also lacks compatibility with Alexa, third-band or ultra-high-performance processors.
On the plus side, the C80 has Beamforming, which helps boost the signal to be more focused and with longer range. This router has 3 x 3 MU-MIMO technology, which means it can transmit and receive 3 data streams simultaneously. This helps the router deliver a faster signal when you're watching a program, playing a game, or using a 3 x 3 powered computer.
The Archer C80 has a smart connection, giving the router the ability to switch devices between bands and airtime fairness (simply understood as an arbitrator evenly divides the time used wireless waves to transmit data to the client), which helps to reduce the latency caused by old or slow devices. This way, a slow device is less likely to hit the network.
Network performance: Fast speed, no USB port
Although this is a mid-range device, its speed and performance are quite impressive.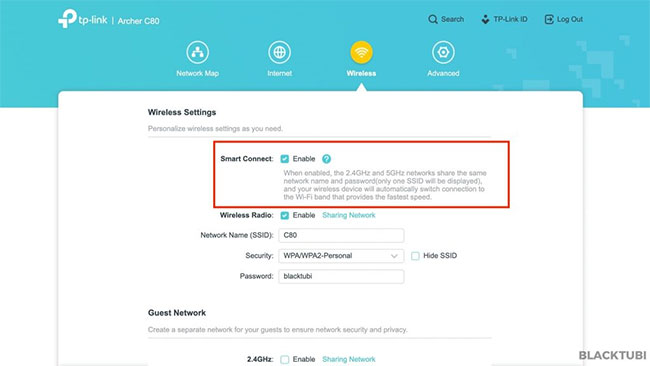 The article really recommends that you turn on the smart connection function (Smart Connect). This will unify the 5Ghz and 2.4Ghz bands under a single WiFi name (SSID). This provides a more seamless connection as the router will intelligently control your device to the most suitable band, with the best signal quality without having to switch between 2.4Ghz WiFi and 5Ghz WiFi. manually.
I got a pretty good WiFi speed from Archer C80 when I tested it with AC1200 wireless laptop and WiFi adapter. Speed is close to 600Mbps over short distances. You will be amazed by how fast and stable the WiFi network comes from this affordable wireless network.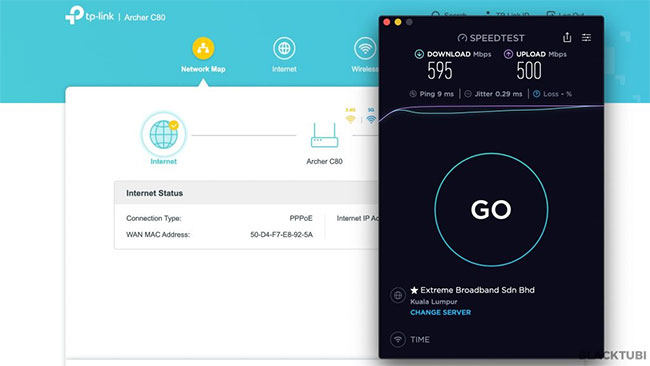 When at a further distance behind two walls, the WiFi speed of 5Ghz dropped to just under 400Mbps a bit. This is still a really good performance that many people wouldn't expect from a router like this. There are no disconnections when using this router.
You will need a Wireless AC enabled device to enjoy fast WiFI speeds. Most devices sold after 2018 already support wireless AC technology. If you are using an older computer, you can upgrade the WiFi receiver by purchasing a new WiFi AC wireless adapter.
On a wired LAN connection, I can achieve maximum download speeds of up to 871Mbps on TP-Link Archer C80.
Scope: Even better than advertising
TP-Link advertises the C80 as a router suitable for 3 bedroom homes. However, that estimate underestimated the router's coverage.
In the test house, the router consists of two floors, 279m² wide with 5 bedrooms, WiFi connection is still stable in every corner. Every wardrobe, bathroom and bedroom has a steady signal and no dead zones appear. Even in the garage, front yard and backyard, the signal is strong. Only when trying to use multiple gaming devices and streaming at the same time does lag occur.
Conclude
TP-Link Archer C80 is an affordable router that offers fast speeds, but it would be much better if it had a USB port.
Advantages
– Good price
– Fast
– Compact
– Long, reliable antennas
– MU-MIMO technology
– Useful companion app with parental controls
Defect
– No smart assistant controls
– There are few advanced features
– There is no USB port